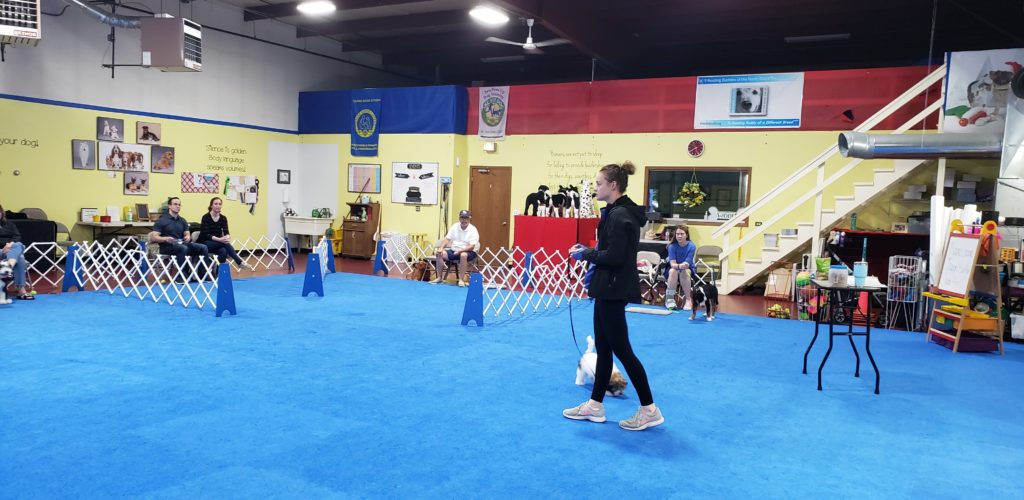 Puppy Foundations is for puppies 10 weeks of age to 20 weeks of age. We will help you learn how to create positive experiences for your puppy with people, places, other dogs, and his environment. Each week we combine basic obedience with education and enrichment, along with socialization time with other dogs.
The format of this class is a standard 6-week class. A $50.00 non-refundable deposit is required to register for class.
All puppies must have at least one vaccination series from a local veterinarian before enrolling (proof required).
What will we learn in Class?
You and your puppy will learn a variety of foundation skills as well as how to deal with typical puppy behaviors that we do not find so appealing in our lives. For example – puppy nipping, potty training, jumping & more:
House & Crate training
Sit & Down
To Stay or Wait patiently to be released
Polite walking skills
To come when called
Impulse control
Body handling
Socialization & puppy play
Due to the change in play skills as puppies mature, some puppies may be asked to move into another class at or around 20 weeks of age by the class instructor. Puppies enrolled in this class may transfer unused class credits to the Adolescent Foundation Skills 1 class, based on instructor recommendation, which builds on the skills learned in Puppy Foundations Class.
If you are new to Two Paws Up Dog Training, welcome! Prior to your puppy's first class, you must either attend a free virtual orientation, or schedule a Puppy Primer Visit in your home or a Puppy Class Prep in our training center. Call us for availability for either Puppy Primer Visit or Puppy Class Prep.