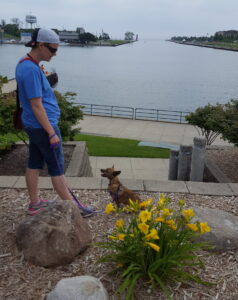 If you have a dog who barks and lunges at other dogs or people out on walks, this is the class for you! Reactivity is a challenging behavioral problem to address.
Our Focused Fido class is a 4 week class with up to 4 dogs. In this class we teach/build the foundation skills needed to address your dog's reactivity in the real world. We will teach behaviors work on building focus, relaxation and walking skills. Once you and your dog have mastered those behaviors then we will begin adding distractions.
If your dog cannot focus on you while I bounce a tennis ball 2 feet away, they will NOT be able to focus on you when they see another dog. When you and your dog have demonstrated that you can perform these behaviors solidly with varying distractions, then and only then, do we add another dog.
A Behavioral Consultation or Class Evaluation is required before starting this class unless you have done previous training with us. You also need to have completed our FREE Intro to Fear, Reactivity & Aggression Online Course.