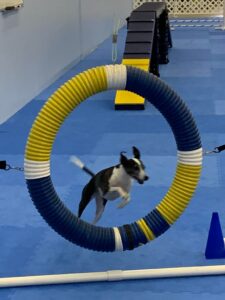 Welcome to the sport of Agility! Agility can be an exciting activity for both you and your dog. Learn the basics of agility, including proper use of equipment and safety, beginning skills such as jump on command, jump wraps, contact points, handler finesse, and much more. Proper introduction to the concepts and equipment are the key to a focused dog, and a safe activity.
Agility foundations is for dogs 9 months of age and older.
Please bring the following items with you to class:
* A buckle collar, martingale collar, harness, or head halter (NO prong or choke collars are permitted)
* A 6 foot leash (NO RETRACTABLE LEASHES PLEASE)
* A variety of treats – soft, small, and smelly are best!
* A rug or mat
* Please wear soft soled, closed toed shoes that are comfortable to move in
Ring Rentals
We offer ring rentals on most Sundays for our current agility students. Click here to register online.