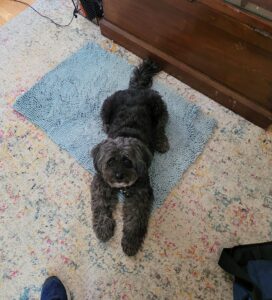 Our private training sessions focus on the goals you set for your dog. Private lessons are conducted in your home, at our training center, virtually or in the location that affords successfully completing those goals.
Here are some of the goals we help dogs achieve:
Basic obedience commands

"Household manners"

Proper dog to dog interactions

Proper "people greeting"

Housebreaking Problems

Separation Anxiety
Our sessions also offer realistic solutions to many common behavioral problems.
---
Coaching Sessions
We work with you and your dog together to meet your training goals. Coaching sessions can be once weekly, or every two to three weeks, based on the client's needs.
You will start with an Initial Consultation where we will discuss your specific goals and create a training plan to help you reach them. We can then offer follow up appointments to help you work towards those goals.
Initial Consultation – up to 75 minutes – $175.00
Follow-Up Sessions – up to 45 minutes – $90.00
---
Reactivity/Aggression Sessions
During the initial virtual consultation we review a detailed questionnaire and look at the behavior, and then outline the following:
Behavioral Assessment: The reason(s) behind the behavior
Training Plan – Basic Skills needed to provide alternative behaviors
Management Plan – How to keep people safe and help your dog feel better
Relationship/Enrichment Plan – Activities to help build a better relationship and provide both mental and physical exercise
Behavior Modification Plan – Steps needed to make your dog feel better in the specific situations where reactivity/aggression is occurring
Foundation skills that are needed for success may be taught during the initial consultation.
Reactivity/Aggression Consultation  – up to 1.5 hours – $250.00
Reactivity/Aggression Follow-Up Sessions – up to 45 minutes- $100.00
---
We Servic the northeastern IL area including Lake Forest, Lake Bluff, Waukegan, Gurnee, Libertyville, Lindenhurst, Zion, Beach Park, Mundelien, Vernon Hills & more!
We may charge a travel fee for appointments outside this area.