Welcome to Two Paws Up Dog Training!
Not all dog training is created equal! Many "trainers" still use out-dated techniques and devices in the name of "training". These aversive and punishment-based techniques do more harm than good to your dog and your relationship. Here at Two Paws Up, we believe in teaching the dog vs. correcting the dog.
Dogs do not come home knowing how we want them to behave in a household setting. We have to teach them everything from where to go potty to how to walk on a leash and not rush out the door the second it is opened up. All of these things take time and commitment as well as proper tools and techniques. That is where we come in!  Our training is family friendly and allows the entire family to bond with and train the dog.
Our team consistes of more than just "trainers". We are all experienced in dog body language & behavior. There is a big difference in just training and addressing behavior challenges!
We offer group classes, private lessons and drop-off training options at our 26,000 sqft air-conditioned facility with a 1/2 acre fenced in outdoor training area. We also do in-home lessons at your house all accross Lake County, IL.

What We Do
We offer training for dogs of any age! From puppies to seniors. Yes old dogs can learn new tricks!! Whether you are looking for sport class or to address specific behavior challenges, we can help! Contact Us Today!
Group Classes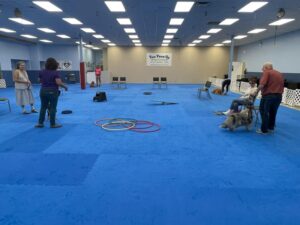 Our group classes provide you and your family the opportunity to come and learn with your dog. Our class size is limited to 6 dogs so you get one-on-one instruction as needed throughout the class.
Check out our class offerings >>
Drop-Off Training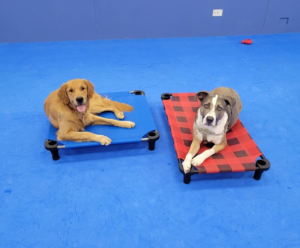 Our drop-off training gives you the option to drop your dog daily for some fun and learning while you are at work. We have different options depending on your specific needs.
Check out out our drop-off options>>
Private Lessons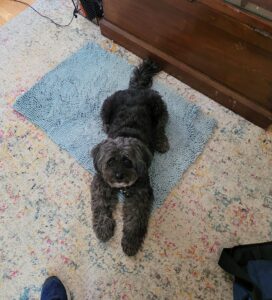 If you would rather work one-on-one with a trainer or have specific behavioral challenges, private training may be the option for you. We can schedule these sessions at our facility or in your home.
Check out more information on our private training>>
Fun & Games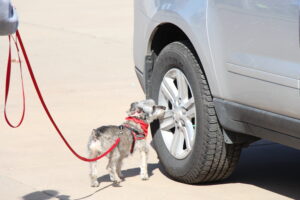 We also have agility, nose work, trick  dog and other classes available. We can do ring rentals for both our inside and outside areas. If you are looking for something specific, please ask!Have questions about the option that is best for you? Please contact us so we can help you out!