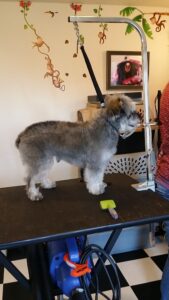 Jennifer will be starting her own grooming business  inside of Two Paws Up Dog Training! Starting July 1st you will be scheduling directly through her. Stay tuned for more details!
Grooming is an important part of many of our dogs lives. We believe that it should be done correctly from the beginning to avoid challenges later in life. We have decieded to offer puppy grooming as part of our training options. Teaching puppies how to handle body handling can set them up for a life of success!
Puppy Grooming
This option is for puppies 8 to 16 weeks old. Puppies should have 3 to 4 puppy baths and trims spaced out 4 to 6 weeks during this age. This helps the puppy get used to grooming before doing a full haircut. It makes the entire proces less scary and less time consuming in the future.
Bath and blow out
Brushing and combing
Body handling and exposure to everything grooming related tools
Puppy trim

Trim the eyes and face lightly (not whole head)
Bath and blow out
Brush out
Nails
Sanitary area
Paw pads and feet
Nails grinded
Packages available upon request!
Dog Grooming
We will work with dogs over 16 weeks of age who need special care and handling due to fear, age or physical issues. This option includes the following:
Bath, brush, blow out
Brushing and light demating if needed
Hair cut
Nails (Clipped and/or grinded- depending on the dog)
Dogs would need to be groomed every 4-6 weeks to help work on their behavior and grooming may happen in 2-3 sessions depending on the dogs behavior and ability to work with me.
Nail Trims
Dogs need their nails done frequently and this can be scary and/or unpleseant for many dogs. We will help work the dog through these issues to make the entire process more tolerable for the dog. We offer this service for dogs of ay age. The nails may clipped and/or grinded depending on what is best for that dog.
Pricing 
$20
Grooming Training
If you are interested in learning how to care for your dog at home, we can help! We will teach you how to properly bath, brush, cut your dogs hair and nails on your own. These will be individual private training sessions where we teach you the needed techniques for your own dogs. This is not meant to train you as a groomer.