Fear, Reactivity/Aggression Private Training
Behavior issues can be challenging and frustrating for us. When dealing with a dog who is fearful, reacitive or aggressive those challenges and emotions can be even more heightened. We are here to help! We want to help you learn to understand your dog and what they are going through in those situations and most of all help you both through it.
Working with a fearful, reactive and/or aggressive dog, is a marathon and not a sprint. We will be her every step of the way. While we always tailor our training to the individual dog and family, below you will find a step-by-step outline of what to expect along the way.
If you have questions before embarking on our prgram, we are happy to help! Please email us at [email protected] or give us a call at 847-235-2263. We look forward to hearing from you!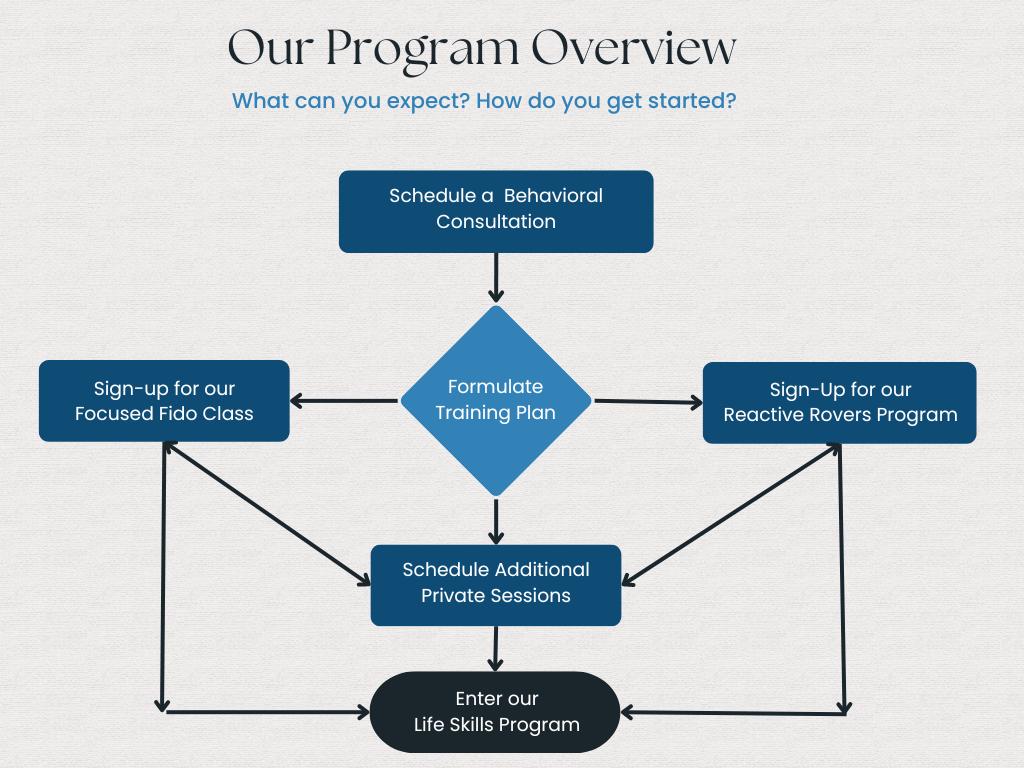 Step 1
The first step is to schedule your Behavioral Consultation using our online booking system. This appointment can either be in person at our training center or your home or virtually via Zoom. The consultation is approximately 60 to 75 minutes and is best done without your dog present especially if they are worried about unfamiliar people. This allows us the ability to adequately discuss your dog's challenges, current behaviors, triggers and previous training history without putting undue stress on your dog.
During this session we will also formulate a training plan and decide on the best option(s) moving forward for you and your dog. Depending on your dog's current skills and your goals, their plan may include our Treat/Retreat, Focused Fido, Nose Work or other group classes, our Reactive Rovers Drop-Off Program or we may continue with private sessions or a combination of these.
Step 2
After scheduling your consultation, while you are waiting for your appoinement, we URGE you to take our FREE Intro to Fear, Reactivity & Aggression Online Course. This course will explain what Fear, Reactivity and Aggression are, what they do to your dog's physical and emotional states as well as your own, the science behind this as well as our training & behavior modification approach.
Step 3
After your consultation, you will receive a copy of your training plan via email as well as any handouts that pertain to our discussion topics. We will also schedule additional follow-up sessions or get you signed up for the appropriate class.
PRICING
Online Intro Class
Self Paced  – $Free
Behavioral Consultation
1 hour  – $250.00
Behavioral Follow-Up Sessions
60 minutes – $125.00 / Night & Weekend $155
45 minutes – $105.00 / Night & Weekend $135
30 minutes – $80.00 / Night & Weekend $110
---
We service the northeastern IL area including Lake Forest, Lake Bluff, Waukegan, Gurnee, Libertyville, Lindenhurst, Zion, Beach Park, Mundelien, Vernon Hills & more!
We may charge a travel fee for appointments outside this area.