We can help you start your puppy off on the right foot!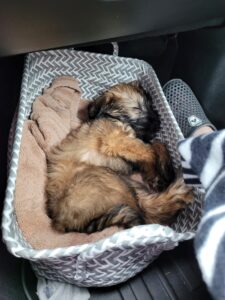 When a new puppy arrives home you will want to begin building a solid foundation for all of the skills you want as an adult. If we want a well behaved adult dog, putting in the time now is critical and can save you years of headaches later in life.
This means committing to training for the next 12 months or longer. Training is NEVER complete, since behavior is ever changing, and both you and your puppy will be LEARNING FOR LIFE!
The first 20 weeks of a puppy's life are the most crucial. Puppies need positive experiences and plenty of socialization in order to become well behaved adult dogs. The current recommendation regarding when to start puppy class is between 10 and 12 weeks of age, before your puppy is fully immunized! Read the American Veterinary Society of Animal Behavior's Position Statement on Puppy Socialization here.
We offer a variety of training options for puppies: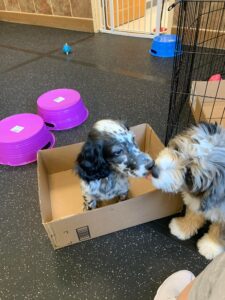 Puppy Head Start
This is a drop-off program for puppies 10 weeks of age through 16 weeks of age. Your puppy will get critical socialization with other puppies as well as get a head start with potty training, crate training and basic skills. For more information on what will be covered check out our Puppy Head Start page. To register click here.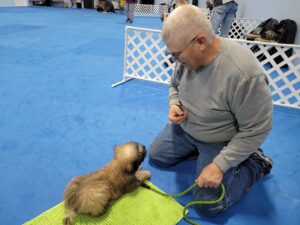 Puppy Classes
Our Puppy Classes are for puppies 10 weeks of age through 5 months of age. You and your puppy will learn the foundation skills of basic obedience and proper socialization with people, other puppies, novel objects, surfaces, and sounds. Visit our Puppy Foundations page to see up coming classes.
Owners must attend a free online orientation before your puppy can begin classes. The orientation information will be sent to you in the email after we confirm your registration for class.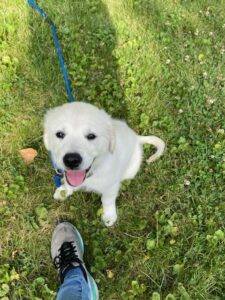 Private Training
Are you looking for a one-on-one option for you and your puppy? Then our private training options are for you!
These sessions can be scheduled in your home or at our training facility. They will get you and your puppy off on the right track and are a great supplement to our Puppy Head Start and Puppy Foundations Class to address any challenges you are having at home.
Puppy Fast Track Private Sessions – these 1/2 hour sessions are held at the training center – $150.00 for the package of 3 sessions – for more info on these visit our Puppy Fast Track page.
Our private training sessions can help you with common puppy problems such as housebreaking, crate/confinement training, puppy play biting, and destructive chewing. Please contact us at 847-235-2263 with any questions. We are happy to help!