Our team has a combined  total of over 30 professional certifications and memberships, and over a century of dog training, showing, and breeding experience among us. They aren't just trainers, they are owners, enthusiasts, and dog lovers. While all have had experience in balanced training, our deep understanding of canine behavior and psychology led us all to positive reinforcement-based  training. We are proud to be a force-free facility, where your dog learns to make better choices out of trust, respect, and love for you!
Stephanie Challand, CPDT-KA, CNWI
Owner & Lead Instructor | [email protected]
Stephanie developed her passion for dog training after adopting her third dog, Lance from a local shelter. He ended up having many behavior issues, leading Stephanie down this path. She read as many books and attended as many seminars as she could about dog training and behavior in order to help him. He made such wonderful progress and went from a scared, highly reactive dog to a confident NW2 dog before ultimately losing him unexpectedly in 2017 to lymphoma. He was one of those life changing dogs.
Stephanie started nose work in 2010 and was hooked from day one. She is a CNWI who recently retired her original nose work dog Logan and is now competing with her third nose work dog Leena and working on her fourth dog Livvy.
Along with nose work, she is our reactivity specialist. She is always eager to learn and gain more knowledge about dogs. She is currently being trained by her adorable pups – Leena, Leevi, Livvy & Lynzi.
---
Lisa Wageman
Puppy Head Start Director & Lead Instructor | [email protected]
Having over 25+ years experience in all venues of training and showing, Lisa strongly believes in having titles in front and back of her dog's names. She has finished dogs in Conformation to Championships, Obedience to multiple Utility titles, Tracking to many TDX's, Agility titles, Rally titles, Barn Hunt, Nose Work, and Titles of Road Dog sponsored by the Dalmatian Club of America and acknowledged by AKC. She has also earned multiple CDX's from other kennel clubs. She has been professionally breeding and showing Dalmatians, and training other breeds, for over 20 years. Years of ring experience has given her the patience and skills to educate new puppy owners, as well as the retired dog that just needs some "fine tuning". Using positive reinforcement makes training fun, which is a must to truly enjoy your canine companion. She is currently working on her Board Certification for Canine Massage Therapy, is an AKC Certified Canine Good Citizen Evaluator, a S.T.A.R. Puppy Instructor, and a certified Barn Hunt judge.
---
Julie Jensen
Service Dog Coach & Lead Instructor | [email protected]
A retired police dispatcher and veterinary receptionist, Julie's true passion lies with training dogs to be helpful members of our society. Not only is she familiar with the training of service dogs, having assisted her mother with her dog's training, she is an active member of K9 Reading Buddies of the Northshore. She has earned several titles in Nosework and obedience. Julie recently received her Canine Conditioning Coach certification from Do More With Your Dog, and is also in the application process to become an evaluator for Alliance of Therapy Dogs. She currently runs the Therapy Dog Program at Two Paws Up,  and is a certified AKC Canine Good Citizen Evaluator and a S.T.A.R. Puppy Instructor. Julie's newest family member, a Great Dane puppy named Leo, is working on becoming a service dog for Julie.
---
Jennifer Stewart, CPDT-KA
Training Director & Lead Instructor | [email protected]
Jennifer started her career with animals in the grooming field where she spent 18 years Grooming dogs of almost every breed and temperament. During this time is when Jennifer developed her love of working with dogs who were challenging for grooming. Working with though dogs is where she realized her passion for understanding dog behavior.  Loving to educate people and help them and their dogs, training was the field that had both. Retiring from grooming Jennifer decided to start a career in training, she attended Penn foster career school and received a diploma in Dog obedience trainer/instructor. She is also a canine good citizen elevator for the AKC.  Jennifer enjoys being student and taking classes with her dogs Angus, Blue and Snopp.
---

Rebecca Simon
Puppy Head Start Trainer & Lead Instructor |  [email protected]
Rebecca comes to Two Paws-Up after retiring from a career as a Speech/Language Pathologist. A lifelong animal lover, she has been volunteering at a local animal shelter for many years. This led to her interest in learning the latest practices in dog training. She began at Two Paws-Up as a mentor student and then an intern. She can be found in our Puppy Head Start Program, and teaching Puppy Foundations or Adolescent Classes.
---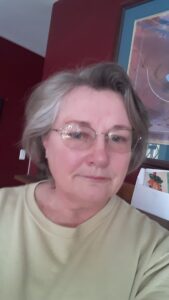 Karen Schaubel
Day Trainer | [email protected]
Karen got her first dog at the age of 45. Since I had never had a dog before I knew I needed to learn how to train the dog. A friend recommended a dog club. The dog and I got tired of obedience and I had heard about a new dog sport called agility. My dog and I both loved that! Lots more fun than obedience but I still liked the precision of obedience. My first dog ended up getting a Utility Dog title and Excellent Agility title.
Dog sports have evolved since I started training dogs, and I've evolved in my training. When you know better, you do better. I'm still learning.
---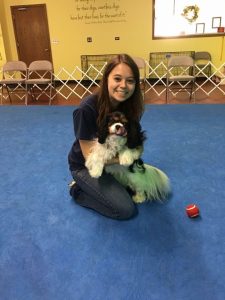 Mary Londo CPDT-KA
Family Paws Parent Education Educator & Lead Instructor | [email protected]
Mary developed her passion for working with canines at a young age.  She has worked in the animal care field since high school, where she was first introduced to the world of training as a volunteer with Two Paws Up.  She graduated from the University of Wisconsin-Stevens Point with a Bachelor's in Biology and a double minor in chemistry and psychology in 2017. Upon graduating, she moved to Florida for a year and worked full time as a trainer for a positive reinforcement training company, managing the day training programs, conducting private lessons, and teaching puppy and basic manners classes at both of their training centers. While in Florida, she was introduced to Family Paws Parent Education and has recently completed their licensing program as a licensed educator of dog and child safety.  She is also a licensed presenter of the FPPE Dogs & Storks and Dogs & Toddlers educational seminars.   She is happy to be back with Two Paws Up providing FPPE seminars and taking remote consultations for dog and child safety from her current home near St. Louis.  Her next goal is working towards completing her Certified Professional Dog Trainer, Knowledge Assessed (CPDT-KA) certification and her AKC Canine Good Citizen Evaluator certification.
---
Becca Castro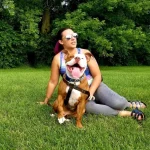 Rebeca Castro (Known as Becca) – has a LPT in Physical Therapy with a post graduate degree in Canine Rehabilitation. She has always been pationate about dogs and all animals. She has been a foster and owner to Bully breeds for 6 years, she loves everything behavior, puppy, adolescent & adults. Her passion lies in new additions and reactive dogs.
---
Tracy Reichert, ABCDT
Customer Service Specialist | [email protected]
Tracy started on her journey of training out of her deep love for dogs. Born in South Carolina, she was raised in the military lifestyle, her father serving his career in the Navy. After proudly serving our country herself for 6 years in the United States Navy, including 2 deployments, she settled down with her husband Chris, who is currently still serving. After having her daughter, Sylvia, she decided to embark on her true passion, dog training, and attended Animal Behavior College. Tracy came to Two Paws Up as a mentor student, and now is part of the team, working in the office and as a lead instructor in our Puppy Adolescent and FLEX Level One classes. She also currently serves the whim of her adorable French Bulldog, Roxy, and Vesta, a Dalmatian, who she has begun showing in conformation.
---
Brenda Belmonte, CPDT-KA
Founder  ​
Brenda was the founder of Two Paws Up Dog Training, Inc. She has fully retired and is n
ow living in South Dakota. She is currently competing in agility with her Pug, Lena, and enjoying hiking and wildlife watching in her new home state.