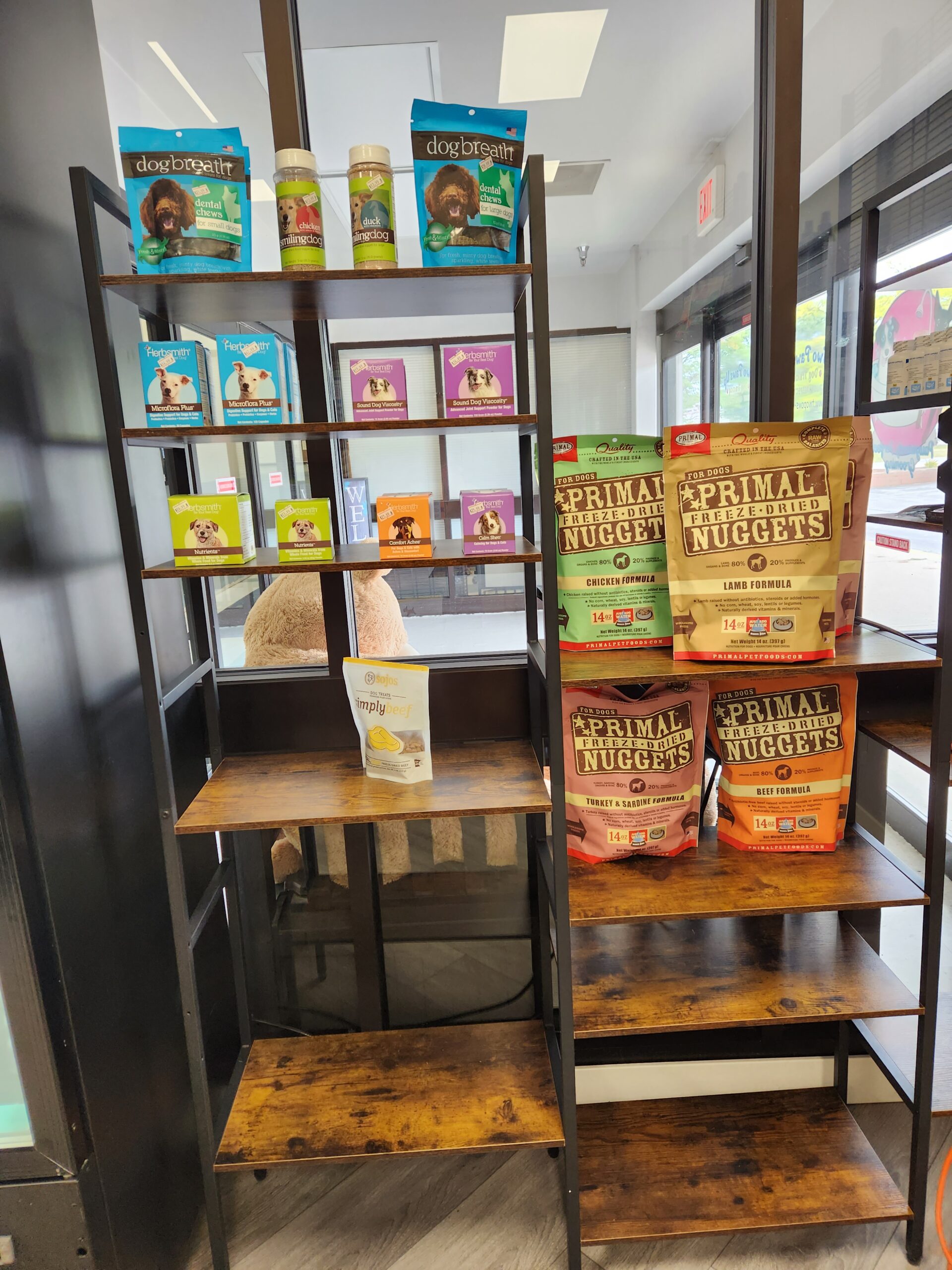 Two Paws Up Retail Store
We offer an ever growing variety of treats, training aides, harnesses, supplements, food & more. We strive to offer only the best in our store. All of the products we carry are products that we use with our own dogs. If you have any questions, definitely let us know.
We are expanding our retal section to include supplements, frozen and freeze-dried raw food as well.
Here are some of the brands we have in-stock: Herbsmith Supplements, Primal Frozen Dog Food, Primal Freeze-Dried Dog Food, Vital Essentials, ZiwiPeak, Real Meats & More!
You may purchase online and pick up in the store as well! Check out our online store to view our full product line up.
Supplements
CalmShen
PERPETUAL ANXIETY RELIEF – If your cat or dog experiences separation anxiety, destructive behavior, extreme hyperactivity, or fear aggression, they're likely suffering from perpetual anxiety. Calm Shen is the relief you've been looking for! The herbs in our formula may help to promote a sense of relaxation and mental alertness without drowsiness.
75 gram powder – $25.99 – Purchase
---
July 3rd Soft Chews
July Third is not only all-natural but quick-acting, calming dog anxiety and promoting a natural feeling of relaxation for a brief period of time. If you know your dog is uneasy with new routines, keep July Third on hand for the next time your dog needs her snazzy hairdo done at the groomer. While this is a great solve for occasional anxiety, it is not a long-term solution. If your dog has unending anxiety, your pup would do better combining July Third with Calm Shen for long-term relief.
Small Dog – $15.99 / Large Dog $22.99 – Purchase
---
Comfort Aches
FAST-ACTING PAIN RELIEF – Your pets experience pain for a number of reasons – joint degeneration, rough play, or a day on the job, just to name a few. Often compared to aspirin for dogs and cats, Comfort Aches is an herbal formula that helps put an end to those daily aches. An easy-to-give solution, it's a must for any household with pets. Keep a bottle of this natural formula on hand for occasional, short-term, or long-term use!
75 gram powder – $27.99 – Purchase
---
Sound Dog Viscosity
Glucosamine, Chondroitin, & hyaluronic acid – providing the building blocks for optimal joint support, These active ingredients work together to prevent the degeneration of your dog's joints.
Replenishes joint fluid –  joint fluid is broken down on a daily basis, causing joint inflammation, canine arthritis and annoying, nagging pain. Our advanced joint support formula contains all of the components necessary to restore joint fluid, connective tissue and provide natural pain relief for dogs.
75 gram powder – $19.99 /  150 gram powder – $34.99 – Purchase
---
Microflora Plus
Microflora Plus is the perfect combination of probiotics, prebiotics, digestive enzymes, and gut soothing herbs to support your dog's digestive system. Meant to keep your dog regular, the ingredients combine to help bring relief to a dog with digestive upset and assist in preventing bacterial growth – such as E. coli or salmonella- in the digestive tract.
30 count – $14.99 / 120 count – $42.99 – Purchase
---
Nutrients Superfood Dog Multivitamin
At Herbsmith, we understand that everything you feed your dog affects their body. Knowing that the best vitamins for dogs come from whole food sources rich in nutrients, we blended fruits and vegetables known as "superfoods" to make a concentrated powerhouse of vitamins and minerals for dogs. Nutrients is made up of broccoli, blueberries, pomegranate, spinach, sweet potatoes, cranberries, tomatoes, barley grass, and spirulina. These ingredients are chock full of vitamins like A, D, and E along with phytonutrients and antioxidants which supports the health and well-being of dogs at any age. With proper nutrition, your dog is happier and healthier, longer.
Small – $13.99 / Large- $19.99 – Purchase
---
Frozen Dog Food & Toppers
Herbsmith Dog Kibble Seasoning
Smiling Dog Kibble Seasonings are made purely of real meat and whole fruits and vegetables to help dogs live the way they are supposed to. The ingredients on the label say it all: only meat, vegetables and fruits. A delicious, 100% US-sourced, freeze-dried kibble topper that's sure to delight even the pickiest of pups!
$13.99 – Purchase
---
Butcher's Blend Frozen Raw Toppers
A quick-thaw, raw meat topper made from only high-quality animal protein for a boost of fresh food nutrition. Available in 2lb resealable bags.
We carry Chicken, Lamb, Beef & Pork
$12.99 – Purchase
---
Primal Frozen Patties
Our complete & balanced Raw Frozen Formula – in a larger portion that's ideal for larger dogs or multi-dog families. Made with high-quality protein and Certified Organic produce, crafted especially for your canine. Available in 6lb resealable bags.
We carry Beef, Lamb, Pork, Turkey & Sardine
6lbs (12 patties) – $42.99 – Purchase
---
Primal Goats Milk
A nutrient-rich hydration option that's packed with vitamins, minerals, electrolytes, and more—the "universal milk"! Suitable for dogs or cats. Original Raw Goat Milk is available in 16oz, 32oz, and 64oz resealable bottles.
16 oz – $6.99 – Purchase
---
Dental Health
Dog Breath
FRESHEN BREATH & TACKLE TARTAR – Keep your dog's breath fresh and their teeth and gums healthy. SIMPLE, NATURAL INGREDIENTS – Every ingredient was picked with a purpose. Sea algae, spearmint, and parsley work together, annihilating tartar and freshening breath for long-term dental health.
Powder 75g – Purchase
Dental Chews – Small Dog – $23.99 / Large Dog – $28.99 – Purchase