The Importance of "Tricks"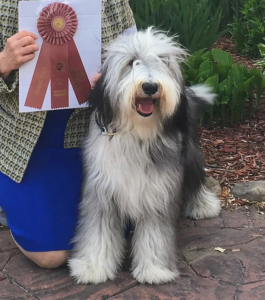 Full of the Dickens Odds on Favorite, AKA Hans, debuted in the conformation ring Saturday in the 9 to 12-month puppy class. He did extremely well earning a Group 2 Puppy Herding Group placement out of 6 puppies. But the experience could have had an entirely different outcome for him.
Anyone who has met Hans knows he is rambunctious, affable, and, being a Bearded Collie puppy, sometimes startles at loud noises. If you've attended a conformation show, or any dog sport event, you know they are chaotic events with unexpected noises and crowds of people with and without dogs that can overwhelm any dog, but especially young dogs new to trialing.
With this in mind, I set several small goals for Hans' first adventure.
Calmly stay in a crate or exercise pen while other dogs are groomed.

Walk through several buildings on the site; quiet buildings with unused show rings, grooming areas with hair dryers blowing, and buildings with judging occurring.

Wait ringside for our turn without anxiety (for Hans that is, I'm always anxious waiting ringside).
But the most important goal was to help Hans have fun outside and inside the ring.
Preparation was the keystone. Upon arrival at the show site I set up his agility travel plank and FitBone, two pieces of equipment he enjoys working on, and let him "play." With treat bag fully loaded we walked through the buildings the night before and the morning of the trial, copiously rewarding for reorienting to me at every chance and especially around the loud dryers and noises. He played again before his final brushing then walked me to the ring. Ringside he had a great time greeting everyone who walked by earning rewards for being polite. In the ring, Hans was happiest moving but begrudgingly allowed the stranger to touch him with a little wiggling thrown in for good measure.
It was in the group ring that our training really paid off. While awaiting our turn to go into the Puppy Herding Group ring, we played "hit it" with his floor target and happily entered the ring. However, the judge ran into a snag once we were all lined up. Her judging book did not match the number of puppies in the ring. A show official had to be called to the ring resulting in 6 puppies with nothing to do for about 5 minutes while it was sorted out. Remember my most important goal? Hans had to have fun! So rather than fussing with Hans and struggling to keep him stacked that long (is that even possible?), we played games. Hand targeting, chin rests on my hands, high fives, circles in front of me, circles on my sides, even "back lap" circles, kept him happy and engaged until it was his turn to have even more fun running around the ring and impressing the judge.
The moral of our adventure? Be prepared by planning and training. Those fun "trick" behaviors that require no props and little space can make the difference between a happy, focused dog and the single-event learning from a bad experience that may take hundreds or thousands of reinforcements to counteract. I know Hans deserves the fun tricks, doesn't your dog?